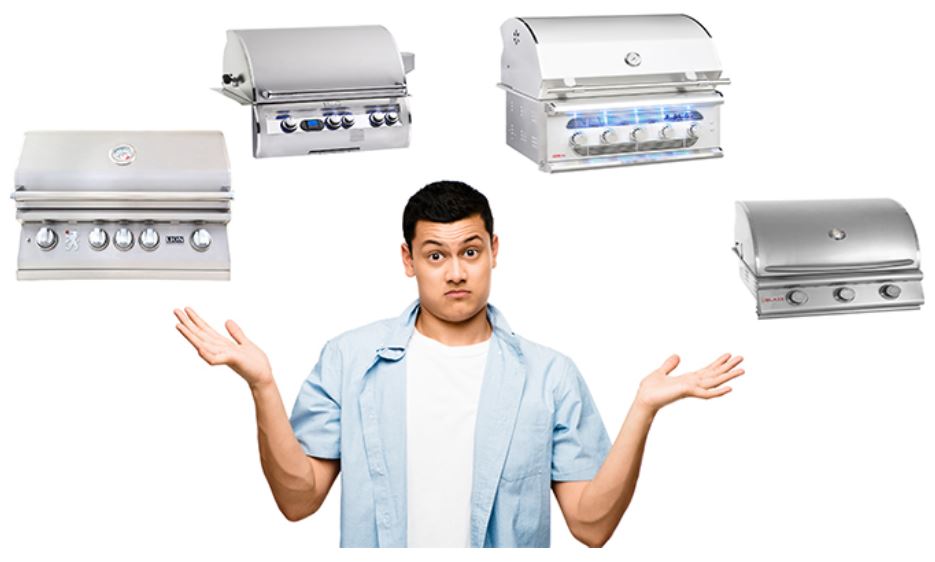 This is a three-part series on selecting the best grill for your specific needs, wants, and budget. We will look at the price, warranty, options, and why it's important not to let a sales person sell anything to you. I hope this better prepares you to make the best decision for your specific needs. Enjoy!
Series 1. Don't shop for grills based on price alone.
Let's face it, whether you do it yourself or have it done for you, an outdoor kitchen is an investment. You will invest time and money to get your outdoor kitchen exactly the way you want it. From picking out the counter top and side finish materials to selecting the best appliances possible within your budget, it all takes time and patience.
The good thing is that once it's done if done properly, you will get to enjoy it for a very long time. In this series, I will discuss the hazards of shopping for grills based on the price alone. Why? Because, unlike a phone or a television, built-in grills are not easy to replace if it doesn't turn out to meet your needs or expectations.
With the average finished outdoor kitchen ranging from $2,500 upwards of whatever you are comfortable spending, as I said earlier, it is a significant investment of your hard-earned money. Your grill is the centerpiece of the outdoor kitchen. So, spending a bunch of money on the outdoor kitchen itself and then buying a substandard grill may seem like a poor choice. But, you would be surprised how many make this common mistake.
Why is the grill so important you ask? Simple, it's intended to be permanent, just like your outdoor kitchen. This means once you install it, it's not meant to come out. If you end up having to replace it, good luck on finding one that will fit in the hole you now have in your outdoor kitchen. Grill manufacturers are constantly upgrading models, and with that, the sizes of grills are constantly changing. You could very well find yourself paying for costly rework of the granite and stonework to get the new grill to fit.
Please don't misunderstand me, I am not advocating spending a fortune on your grill. You should always choose a grill that fits within your budget. Fortunately, most manufacturers offer several lines of grills, much the same way auto manufacturers offer several lines of automobiles. They cater to many different budgets and needs. And good quality grills can be found at MOST every level.
However, there is a threshold for where the manufacturers can make a quality grill and still make money on it. In other words, the less the grill costs, the less they spend making it. Nothing new here, just want to ensure everyone understands that at some point, it doesn't make sense to spend less money on your grill. For grills in the 30" to 32" range, that threshold is around $1,200.00. Any less, and you will likely find yourself replacing components so often that you eat up your savings and spend most weekends fixing your grill or waiting for parts. Yes, there are warranties as well, but we will cover why that isn't always the answer either in series two.
So, what do you do if you can't afford the higher priced grills? First, look at the options available on the grill and what you really need. For instance, a rotisserie and rotisserie burner are nice to have, but would you really use it enough to pay $200 or more extra for it. How about interior lights? Yes, they are very nice to have, but are they worth the additional $150 or more as well as what it costs to run electric out to it? Many entry level grills do not require electricity. This can really cut costs while getting a solid, great looking, and highly functional grill.
Another area to trim down your grill costs is to right size your grill. If you have a family of 4 and entertain a few times a year, you can usually grill on a 30" to 32" grill quite comfortably. When you entertain, it just might take you a little longer to grill everything for your guests. But in my humble opinion, that is often a good thing. It just gives you a little longer to chat casually with your guests while enjoying a cold beverage or two! The point is, don't get a 40" grill when a 32" will work just fine.
Notice, none of these options talk about a compromise on quality. If you are like me, you have a hard time waiting for anything. Instant gratification is very common these days. However, the reality is, sometimes you will regret not waiting. This is one of those instances. If you can't afford it, it's probably better you just keep saving until you can. Trust me, setting up your new $49 kettle grill from Walmart next to the grill that is now a stainless-steel flower box is not a great feeling! Take your time, and when you are done, you will really have something to enjoy for years to come.
I hope you found this helpful. If you have any questions, just click on contact us, we will get right back to you. Stay tuned for Series 2, where I will discuss grill warranties and why they don't matter as much as you think.
Recent Posts
This is a three-part series on selecting the best grill for your specific needs, wants, and budget. …