FAQ's - WHICH LINE IS BEST FOR ME?
What's Included In The Price Of The Module?
All Select-N-Connect modules include the frame and attached cement board with openings cutout for you, required hardware, assembly instructions, and the appliances in the appliance package you select.
Shipping to the most locations in the lower 48 states is

FREE

. Please call us at 866-635-5487 with any questions.
How Does The Select-N-Connect System Work?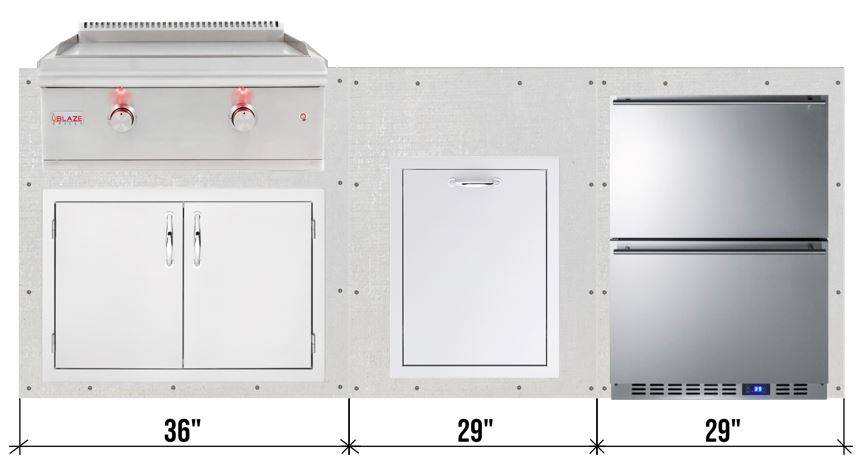 Step 1. Select the modules you want

Step 2. Connect them together

That's it.

We include the bolts to join each module to the next module, it's that simple.
What If I Need Help With My Design?
Join the club! Seriously though, no problem, simply Contact Us or call us at 866-635-5487 and we will get you what you need.

It's what we do!
What If I Need A Custom Sized Module Or Go Around Posts Or Something?
No problem, simply Contact Us or call us at 866-635-5487 and we will get you what you need.

Actually, it's the most common part of our process. It's what we do. Did we mention we do free design work?
Do You Offer Backsplashes, Bars, And Seating?
Absolutely, you can choose them from the options on the product page.

If you have any questions, please call us at 866-635-5487 and we will be glad to help you.

Keep in mind, we will also do a drawing for you to approve after you order to make sure we get everything just right.

Relax, we got this!
How Do I Ensure You Know How I Want My Design Laid Out?
No worries, after you place your order, a designer will reach out to ask some specific questions to finalize the design.

The designer will then create a 3D drawing showing the layout and send it to you for review.

Make any changes to the order you like, and when you approve it, we will put it into production.

This way we can help guide you through the process and avoid errors.

This is just another way we excel against the competition.
What If I Want To Make A Change To A Module?
WE CAN CHANGE PRETTY MUCH EVERTHING ON THEM FOR YOU, just

Contact Us

or call us at

866-635-5487

to get started making your module customized to your needs. We will draw and quote it for you quickly with no obligation.
How Difficult Is It To Assemble?
All ready to finish and finished modules are assembled the same way even though video shows stone and granite applied.

All cutouts for RTF and Finished modules are made for you

Our 48" RTF outdoor kitchen module assembles with 16 bolts and a wrench in about 5 minutes with 1 person. Watch the real-time video to see it fully assembled in under 4 minutes.

Our proprietary framing system has been engineered to make assembly easy and fast.
How Do The Panels Arrive And How Heavy Are They?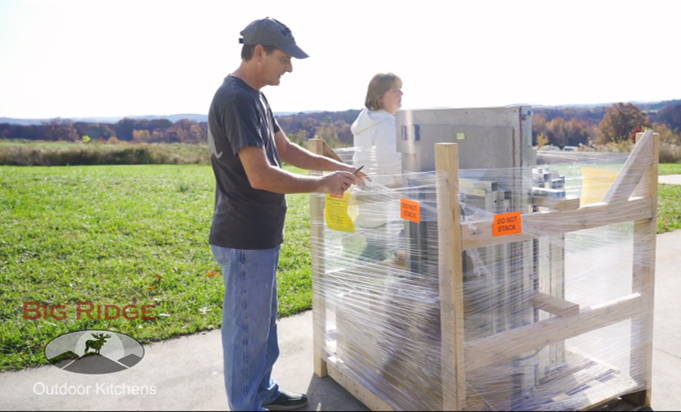 The modules arrive securely on a pallet fully wrapped to prevent damage in shipment.

Due to the size of the panels, all outdoor kitchen modules ship via Freight and include a liftgate at delivery to offload the pallet(s).

Your appliances will arrive on a separate pallet in their own packaging to avoid damage in shipment.

All shipments are insured against damage.

Each panel is banded to the center support of the pallet to make it easy to remove one at a time.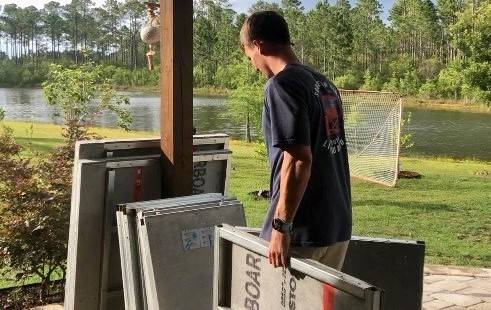 Our panelized system makes carrying your outdoor kitchen to your back yard or deck a breeze.

Most panels weigh between 35 to 50 lbs, but can exceed this depending on the options chosen. It's always easier to have 2 people when lifting the panels and moving them into back yard and a hand cart is a great help as well.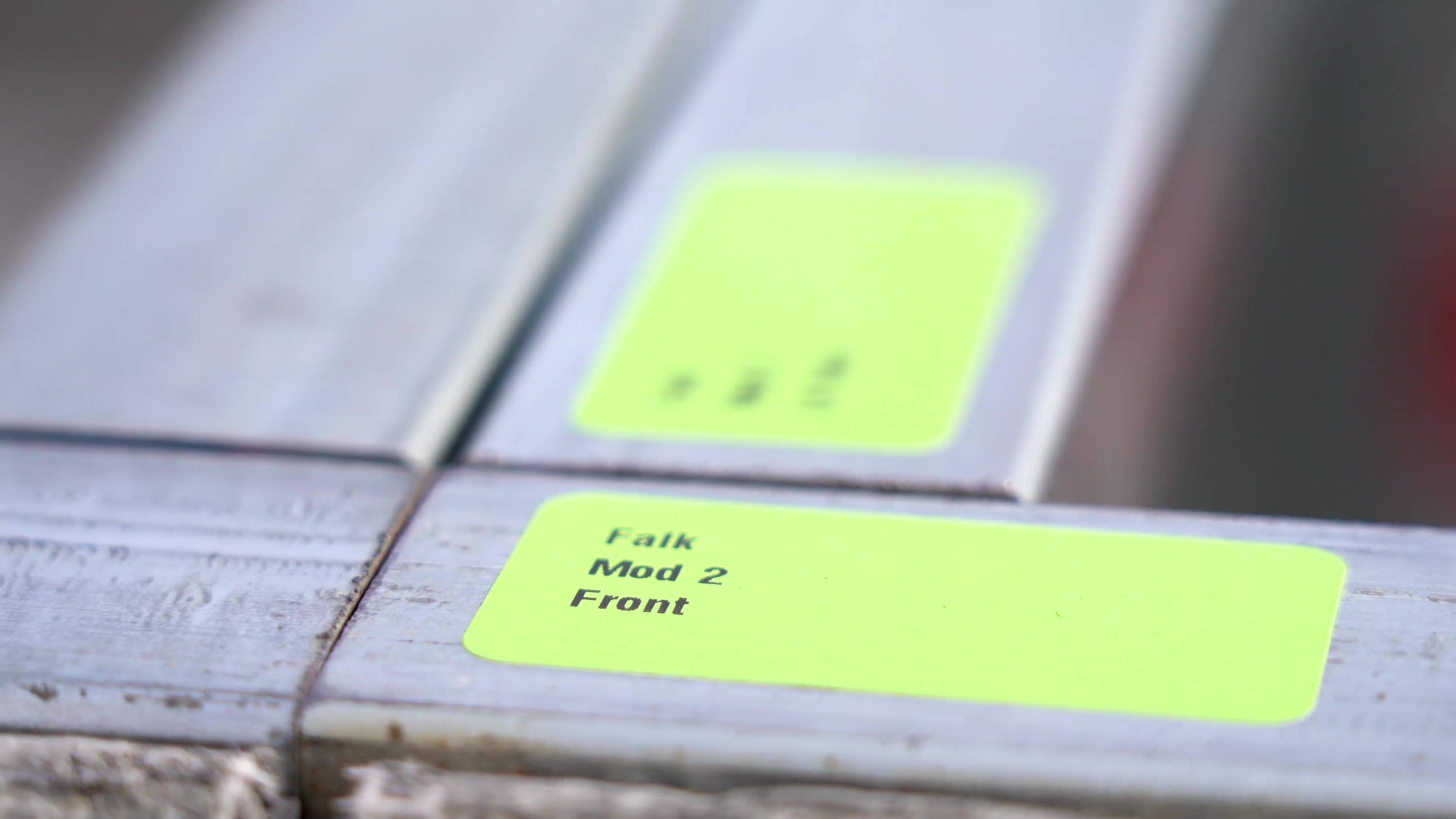 When unloading the panels, simply read the green stickers on the tops of the panels to layout the panels by module.
Why Choose Select-N-Connect Over Others?
Well, we are not the cheapest, but, that wasn't our intention. Instead, we focused on building the most robust, user friendly, and value packed DIY outdoor kitchen system in the industry. Through many years of continous improvement, we have a product that takes the guesswork out of the building process, allowing our clients the ability to make the outdoor kitchen their own and have it be something that lasts and they can be proud of.

Cutouts - We install them for you, they don't.

Fastest and easiest system on the market. Every module we produce is fully assembled, quality checked with text fixtures to ensure cutouts are correct, labled for easy identification of parts and then carefully packed off for shipment to you. That ensures when you get it, it's right.

We customize them to meet your exact needs.

We provide the complete package, no "needed extras" for a true one-stop-shopping experience or you can use your own appliances for greater flexiblity.

Free design service from industry leading designers and engineers for the right fit every time.

You are not a number - we work with you one-on-one to help you side step the costly mistakes others may not tell you about, such as not putting seating behind a grill due to heat or smoke or the need for proper ventilation to keep your family and investment safe from dangerous gas build-ups.

Fully welded frames make them the strongest on the market - capable of easily holding concrete countertops, extra large pizza ovens and pretty much any other bbq item you want to use.

Hassle and obligation free drawings and quotes.

Real people answer when you call us at 866-635-5487.

Sets up in minutes, be grilling the same day it arrives.

No hassles, no cutting, no measuring, just simply bolt together and enjoy.

Your neighbors will be jealous, that's worth it right there!
How Do I Level My Outdoor Kitchen?
Once your outdoor kitchen is fully assembled, using a level, adjust the attached leveling feet to ahieve the desired level.
What Kind Of Finish Can I Use?
Our ready to finish modules are designed to be compatible with most common finishes.

For sides, this includes real stone (even 4" thick and thicker), faux stone, stucco, tile, hardi-board, aluminum siding, thick and thin brick, etc.

For countertops, our ready to finish outdoor kitchens are prepped for solid slab countertops such as granite, marble, quartzite, blueston, pre-cast concrete, etc. These do not require cement board tops, so our standard setup does not include cement board tops.

With the optional cement board tops (used to hold the wet cement or mortar) you can use poured concrete and tile countertops.
Do You Offer Finish Materials?
Yes, we do.

For side finishes, we offer several real stone colors and premium aluminum colors.

For countertops, we offer luxury granite slab countertops.

Our ourdoor kitchens are designed to allow for the side and countertop finishes to be applied to the sides and countertop, and then be dis-assembled for shipment. Assembly is completed in the same manner as with ready to finish options, with bolts.
What If I Have A Problem With Something Not Fitting Or Being Damaged When I Receive It?
For Damage:

We take considerable time and cost to ensure your outdoor kitchen is well packaged and protected for shipment.

We also screen our freight partners to ensure we are using only carriers with very low damage records (no carrier has a zero damage record). This costs a little more, but, it is worth it.

We insure every shipment against damage to ensure there is never a problem replacing a damaged or lost component.

Just follow the instructions shown either on your shipment tracking and pre-delivery checklist, our shipping policy, or the yellow placards attached to the pallets.

Once notifed of damage, we will work to get the item replaced for you as soon as possible and we will file the freight claim.

For defects or errors:

Once notified of a defect or error, we will reach out you to quickly resolve the issues. Typically the issues have to do with intentional gaps installed, which are required for various reasons such as combution air requirements for grills as required by the manufacturer.

In the rare event something does not fit or has a manufacturing / material defect, and is a result of an error on the side of Big Ridge, we will replace the affected component with a new one promptly.

If the error is the result of information supplied by the you, we will work with you to find a solution, though additional charges may apply. To minimize this possiblity, it's best to purchase your grills and other items from us as we have all manufacturers specifications, otherwise you would be responsible for providing them to us.
Is It Difficult To Finish My Own Outdoor Kitchen?
It doesn't have to be. Building an outdoor kitchen from scratch takes quite a lot of planning and knowledge of construction to avoid common mistakes and avoid potential injury.

That's why we exist. We are somewhere between DIY and Done For You.

We have made the process of building and finishing your outdoor kitchen easy and fun.

Since we make all the openings for you, there is nothing left to do but assemble and apply the finish.

The most common finishes on DIY outdoor kitchens is stone and granite slabs. Of course, there are many other ways to finish them.

Stone is suprisingly easier these days with panelized stone that can be put on in sheets and covers a large area at a time. These look great and last a long time, you can't go wrong with real stone!

Most customers have the granite slabs cut and installed by a local supplier.

Doing porcelain or granite tile is another very doable finish for a DIYer.

Overall, our clients have done exceptional jobs with their outdoor kitchens, check out their handy work here https://bigridgeoutdoorkitchens.com/inspiration/

You can do this!
Will I Really Save Money Doing It Myself?
The answer is simple, Yes.

Like most construction projects, a large majority of the cost is labor.

Since this is all we do, and we have equipment set up to do it faster and in a controlled environment, we can do it with much less labor and no weather delays, and pass that savings along to you.

For the die hard DIYer, that does everything except for the framing, you can up to 60% or more over site built construction.

For the majority that do most of the work but still have others do the granite or electrical, the savings are more in the ball park of 25% to 40% off site built construction.

In fact, that's the reason we work with so many contractors. They can do more jobs with less people and maximize profits.
What If I Have Questions While I Am Building My Outdoor Kitchen?
Well, you're in luck! We have real people at the other end of the line, just call us at 866-635-5487, and we will walk you through any issues you are having.

Since many DIYers do these projects on weekends, we are typically staffed to answer calls on weekends to ensure you have support when needed. Typical weekend hours are from 10:00am to 6:00pm eastern. However, we are off most holidays, our employees are really important to us and need them rested to assist you when there in the office!

WITH BIG RIDGE, YOU WON'T DIY ALONE!
Do You Include Cement Board On The Tops?
Our modules come standard

without

cement board tops.

For countertops, our ready to finish outdoor kitchens are prepped for solid slab countertops such as granite, marble, quartzite, blueston, pre-cast concrete, etc. These do not require cement board tops, so our standard setup does not include cement board tops.

You can add the optional cement board tops if you are using poured in place concrete or putting tile countertops on. These would be used to hold the wet cement or mortar bed for the tile.

Most granite installers won't install over cement board, so rather than include something that is most likely going to be removed and discarded, we opted to save our clients money and make it an option for the few who needed it.
So What is the Build-Your-Own (BYO) Line?
Select a design that you want (If you want to make changes, see FAQ for Custom Designs below for more information)

Select from the options available (including multiple appliance packages!) or use your own appliances

Modules arrive in panels to easily carry to your back yard

All you (or a contractor) have to do is put finishing materials (granite, stone, tile, stucco, etc.) on and install appliances!

That's it! Simplicity, Flexibility, Ease-of-use, and Dozens of Options: That's the BYO way!
Heavy-duty, fully weleded 16-gauge galvanized steel tube frames

Appliance and door openings pre-installed

Cement board floors to provide clean and dry storage

Heavy-duty stainless-steel leg levelers for quick and easy levelling

Vents installed

Modules pre-faced with cement board (Ready for the finish of your choice!)

All hardware and instructions needed for assembly

FREE design service (Get 3D drawings of your kitchen and make revisions)

Appliances are included in the price unless you choose to use your own
How About Custom Designs?
This option is for you if you like the general design, but want to:

Change the length, width, or height

Want to use your own appliances

Need to work around a post, stub-up, or similar obstruction

How does it work?

Download the Kitchen Editing Sheet on the product page (below price)
Print (or edit digitally) the sheet and make desired changes on the sheet, there are instructions on the sheet as well
Scan or take picture of the pages (or save your changes to the digital file) and upload them by following this link or email them to jodi.smith@bigridgeoutdoorkitchens.com
We then look over the plans to ensure everything fits and send you a 3D drawing of your custom design and an updated quote (customization pricing comes at VERY affordable rates and no cost to use your own appliances)
Look over the new design and quote to see if it matches your dreams! If it does, contact us and we will help complete the purchase of your dream outdoor kitchen! If not:
Make more revisions to perfect your design and send them back to us so we can it just right!
More questions, give us a call at 866-635-5487 or email at jodi.smith@bigridgeoutdoorkitchens.com
Does It Really Ship In 7 Business Days?
Yes, we have curated the most popular options and we pre-build them for quick shipment

All the appliances are in stock and ready to ship

If for some unlikely reason your order will be delayed, we will notify you as soon as possible

Through April of 2022 we have shipped 98% of quick ship outdoor kitchens on or before the 7th business day
Are The Outdoor Kitchens Finished On All Four Sides?
Yes, all of the islands will have the same real luxury stone or premium aluminum finish on all four sides
What Do Your Vents Look Like?
Instead of using the tired off-the-shelf stainless steel venting panels, we opted to take a craftsman approach. Our integrated vents are careullly created using the same stone as the side panels. The result is a clean look that blends in while keeping you and your loved ones safe. Just another way our innovative products lead the industry.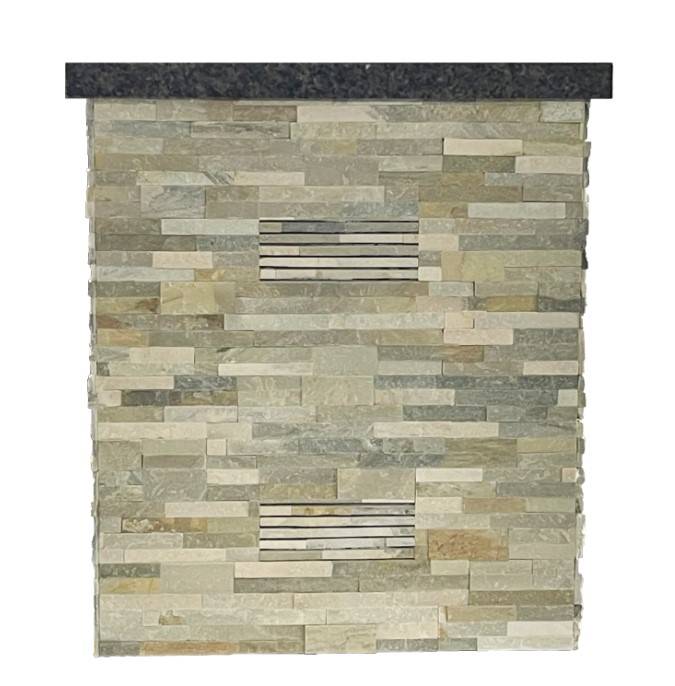 What's Included In The Quick Ship Outdoor Kitchen?
All the appliances, the finished outdoor kitchen cabinets including luxury granite slabs, your choice of real stone or premium aluminum side finish, and all the hardware necessary to assemble the outdoor kitchen.

For a limited time, many of the quick ship packages include a premium grilling package worth $500 to get you started

Free Shipping!*
How Difficult Is It To Assemble?
We know it's hard to believe you can assemble our outdoor kitchen in under 5 minutes, so we made this real-time video to show how it's done

Our 72" outdoor kitchen assembles with 16 bolts and a wrench in about 5 to 10 minutes with 2 people. Watch the real-time video to see it fully assembled in under 4 minutes.

Our 96" outdoor kitchen assembles with 24 bolts and a wrench in about 25 to 30 minutes with 2 people.

Our proprietary framing system has been engineered to make assembly easy and fast

Panels with stone can be somewhat heavy so we recommend 2 people and a dolly to bring them to from the crate to the final building site
Do You Offer Setup If I Don't Want To Do It Myself?
We have recently added White Glove Setup Service options for our Quick Ship packages. For an additional fee a trained independant team will bring your outdoor kitchen to your home and set it up! To learn more CLICK HERE.
Can I Change Anything On My Quick Ship Outdoor Kitchen
Yes, you can choose your choice of countertop and side finishes as well as the placement of the appliances (example: left, center, or right grill locations)

If you would like any other changes, WE CAN CHANGE THEM FOR YOU, however, they would no longer be quick ship outdoor kitchens and therefore would take a bit more time to ship, just

Contact Us

Unfortunately, no, you can't change, add, or delete any of the appliances or modify the length, depth, or height of the outdoor kitchen and still have it qualify for Quick Ship program, but we can change pretty much anything for you while adding some additional processing time
How Do Your Stone Seams Look?
Our highly skilled artisans blend the seams making them nearly invisble by staggering joints and minimizing gaps between the stones so they apprear naturally stacked
Premium Blaze and Memphis appliances ensure you will be enjoying your new outdoor kitchen for years to come

We offer real stone and granite slabs versus faux stone colored concrete panels and concrete countertops our competitors offer for the same price

We make the strongest frames in the industry, built to pass down to the next generation

Amazing price for Luxury Outdoor Kitchen

Join the Big Ridge family and enjoy Amazing custmer service with REAL PEOPLE for life

Sets up in minutes, be grilling the same day it arrives

No hassles, no cutting, no measuring, just simply bolt together and enjoy

Take it with you you move, or easily move to another location if needed, nothing permanent

Your neighbors will be jealous, that's worth it right there!